F1 2016 – Codemasters reveals their new game of the series
F1 2016 – Codemasters reveals their new game of the series
The developer Codemasters just revealed yesterday that the will publish the new F1 2016, the official videogame of the 2016 FIA Formula One World Championship.
This year they will bring back the missed Safety Car and Virtual Safety Car and they will also improve the career mode mode of the game with 10 playable seasons and the completely new circuit in Baku, Azerbaijan.
The Principle Game Designer Lee Mather states:
"F1 2016 is a massive step forward for the franchise. The new career mode sits at the heart of the game and allows gamers to create their own legend over a career that can span for up to a massive ten seasons. Beyond improving upon the fastest and most thrilling on-track racing experience in gaming, F1 2016 uniquely offers the drama and vehicle development that goes on behind the scenes. A rich car upgrade system is fully integrated into a new and deep practice development programme which mirrors the tests carried out by the teams in real life. With the re-introduction of the Safety Car as well as the addition of the Virtual Safety Car for the very first time, we are creating the most complete F1 experience ever. This, combined with several features that are yet to be announced, should excite fans of the game and FORMULA ONE."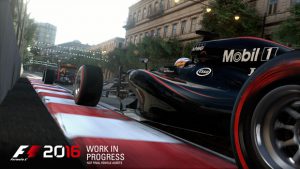 The release date of the game is not known yet, but there will be more informations soon, says Codmasters.
Source: Codemasters