Starflight – inXile founder might have leaked the making of a remake of the classic game
Starflight – inXile founder might have leaked the making of a remake of the classic game
Starflight was released by EA in 1986 and it was one of the first ever sandbox games in which players could explore the at that time huge galaxy of the game.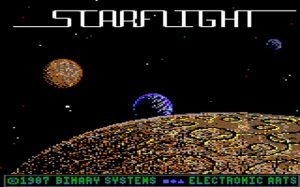 Now the head and founder of the studio inXile Brian Fargo dropped a small hint in a Twitter conversation that there is someone that works on a reboot of the Starflight game. He was asked if he know anything about a possible reboot after he tweeted "We need a Starflight remake!".
Not us but a little birdy might have slipped that a reboot is in the works. https://t.co/gNBr2EHvVI

— Brian Fargo (@BrianFargo) August 9, 2017
InXile now said that Fargo had no further comment on the matter and so we won't get more information unfortunately. But there is stile the possibility that Fargo is right with his hint as other games which were released at the time by EA such as Wasteland and Bard's Tale are beeing rebooted of remade so Starflight would fit in there perfectly.