Strategy Games at Gamescom 2017
Strategy Games at Gamescom 2017
Many new interesting strategy games are shown at Gamescom
For every one who is a fan of strategy games and who is now wondering what might come up in the future in that genre can now relax, Cause I was able to get some peeks at some of the next stars on the strategy sky of video games at Gamescom.
Cities Skylines:
Yes it is definitely not a new game, but a very good one anyways and Paradox Interactive knows that and so the keep adding new features to the game. Now after we mastered traffic problems we have to fight against pollution and for a cleaner future city in their new DLC 'Green Cities'.
Surviving Mars:
People who liked Cities Skylines might also like the next game from Paradox Interactive, 'Surviving Mars'. In that game we have to colonize Mars and fight against power outages, meteor showers and many more dangers to survive.
Tropico 6: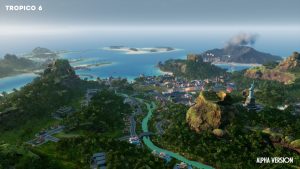 El Presidente is back in Tropico and he now can even build bridges and steel World Monuments. Kalypso showed of the sixth adaptation of Tropico with a new graphic engine and more ways to take power over the Tropico Islands and be a real Dictator.
Rise of Industry:
This little gem is a very complex Industry and Economy strategy game for everyone who likes a challenge. It might look like not much with its simplified graphics, but it has complex core which wants to be conquered. Impressive, especially for the small indie developer team Dapper Penguin Studio.