Detroit: Become Human – PS4 exclusive game has a release date
Detroit: Become Human – PS4 exclusive game has a release date
"Your actions will decide the fates of three androids in the French studio's sophisticated new adventure"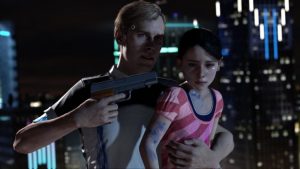 Quantic Dream's Playstation 4 exclusive story adventure game Detroit: Become Human has finally a release date after it had been first shown two years ago at E3.
The game will be released on May 25th 2018 and from then on you can play the stories of three androids who live in an dystopian near future Detroit and have to challenge controversial problems.
"With Detroit, Quantic Dream presents its most accomplished experience, a spectacular and unexpected journey full of emotions, twists and turns, dangers and hope, in the most bending story we have ever created – where every choice matters."
David Cage, the writer and director at Quantic Dream hopes that the game is not only seen as an entertainment object, but also echoes some of the challenges that occur in real life and have an impact on the players personal life.
Source: Playstation Blog