PUBG – New Patch with Bullet Penetration and better Voice Chat
PUBG – New Patch with Bullet Penetration and better Voice Chat
In the next update there will be bullet penetration of limbs and vehicles, in-game friend system and an improved voice chat.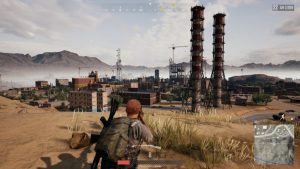 The test servers for Playersunknown's Battleground are live again this week with new features.
This was announced on Twitter by the developers of PUBG.The new update will include bullet penetration, a feature that is a very common feature in shooters since years already. Bullet penetration means that a bullet can hit something, fly trhough it and then hit something else again behind it. For now in PUBG this penetration will only work with players limbs and vehicles though.
PC players, our test servers are going up this week! We are currently polishing and debugging the test build. We are going to be introducing an in-game friend system, voice chat in main menu and vehicle and limb penetration system.

— PLAY BATTLEGROUNDS (@PUBATTLEGROUNDS) March 5, 2018
Further more the update will also bring an in-game friend system and also a voice chat in the main menu.
When the update will also go live for the normal PUBG mode is not known yet, but the developers ask for a lot of feedback from the players to polish the new bullet penetration system.