Gears of War 4 – first update of the year brings new community features, collectable cards and more
Gears of War 4 – first update of the year brings new community features, collectable cards and more
The first update of Gears of War 4 for the year 2017 is out now and it brings 280 new collectable cards, two remakes of old maps and also new community features.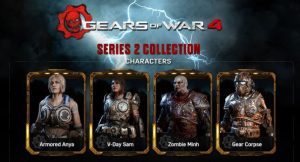 With the biggest content update of the game until now, 280 new collectable cards will be available. There will be 13 new characters, and many new weapon skins. All cards of the Season 2 are available in the standard Gears of War packs.
Also with the update come two remakes of maps, Clocktower and Blood Drive, that are already are known from the old Gears of War games. The maps are available for anybody from January 17th. Until then only people who bought the Season Pass have access to it in the developers playlist.
The update adds also a feature that was wished from the community from the release of the game. It is a penalty for just leaving a match. The developers also improved the Spectator mode so that games can also be watched better.
The complete changelog for the update can be found in the Gears of War forum.