GTA Online – Bikers and More DLC revealed
GTA Online – Bikers and More DLC revealed
The next big update for GTA Online will be the Bikers DLC that add Biker Groups to the game and many more features.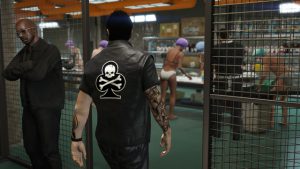 Rockstar Games, the publisher of GTA 5 and GTA Online just announced their new DLC on their website, for GTA Online which will add the possibility to create biker groups with up to 8 players who even can buy clubhouses for their gang.
The update will also add new motorcycles, a special Biker mechanic and venues for seedy business ventures.
With the update, players have the opportunity to build new lucrative businesses and climb the ranks inside their gang but they will also get new weapons, styles and tattoos.
The release date for the update is not yet known, but it will come to PC, PS4 and Xbox One.
Source: RockstarGames