Diablo Remake in Diablo 3 for the Anniversary of the Game
Diablo Remake in Diablo 3 for the Anniversary of the Game
Blizzard announced today at BlizzCon 2016 that there will be a remake of Diablo.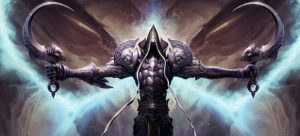 As the Diablo series will turn 20 this year, Blizzard announced at BlizzCon 2016 that they will create a patch for Diablo 3 which will be called 'The Darkening of Tristram' and which is basically a remake of the original Diablo.
The patch will bring 16 levels and all the main bosses from the first Diablo. It will be playable with the old and new characters from the Diablo series and Blizzard will also bring new retro graphic options to the game to make the player feel as they play the original. Furthermore they will also only make it possible to move your character in 8 different directions to enhance the feelings of playing the original Diablo.
The date for the Patch is not yet announced.