Indie, VR and AAA – The Games at Gamescom 2017
Indie, VR and AAA- The Games at Gamescom 2017
The trends of the Video Games Industry in one big place
There are not many events where video game geeks from all round the globe can have a glimpse into the future of the Gaming Industry. Gamescome is one of such events and it is in full swing right now in Cologne Germany.
To give everyone an insight to this great event we at Gamescom 2017 and give you a short breakdown of the trends that we can see around us.
Indie Games:
Gamescom is not only the biggest Gaming event world wide but it also features one of the biggest displays for indie games with the 'Indie Arena Booth' which gives over 70 indie developers a chance to display their games.
Some of the Indie games we liked the most are:
Orwell by Osmotic Studios

AER – Memories of Old by Forgotten Key

A Hat in Time by Gears for Breakfast

Light Fall by Bishop Games

I Hate Running Backwards by Binx Interactive

Frostpunk by 11 bit studios

Code 7 – Episode 1: Threading by Goodwolf Studio
VR Games:
Even though the hype around VR slowed down a bit and people became a bit more realistic about their expectations to VR in the near future. Virtual Reality is still the most interesting future development of Gaming. We are delighted to now also see the first games for VR which are more than just tech demos.
Some of the VR games we liked the most there are:
Moss by Polyarc for PSVR

REZ Infinite by Resonair for HTC Vive / Oculus Rift

Interkosmos by OvidWorks for HTC Vive / Oculus Rift

Ace Combat 7: Skies Unknown by Bandai Namco for PSVR
AAA: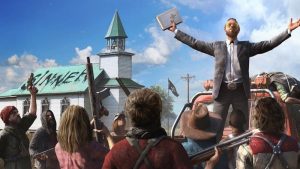 Gamescom without tripple-A Games would be like a sandwich without the bun, it just wouldn't work. So without losing many words here is an overview of the most anticipated AAA games out on the showfloors.
Anno 1800 by Ubisoft / Blue Byte

Super Mario Odyssey by Nintendo

Destiny 2 by Sony

Fifa 18 by EA

The Evil Within 2 by Bethesda

Far Cry 5 by Ubisoft

Assassin's Creed Origins by Ubisoft