Microsoft E3 2016
Microsoft E3 2016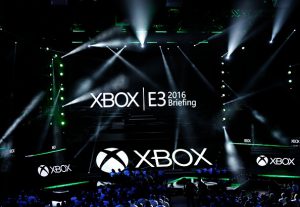 After the E3 conferences of EA and Bethesda, Microsoft followed with a huge conference, where they showed two news consoles, new features for Xbox live, their new service 'Play Anywhere', which allows players to play on Xbox One or Windows 10, cross-play between different Microsoft platforms and many different and new games.
List of presented games:
Gears of War 4
Killer Instinct
Forza Horizon 3
ReCore
Final Fantasy XV
The Division – Underground DLC
Battlefield 1
Minecraft Mobile: Friendly Update
Inside
We Happy Few
Gwent
Tekken 7
Dead Rising 4
Scalebound
Sea of Thieves
State of Decay 2
Halo Wars 2
new hardware:
Xbox One S (Slim)
Project Scorpio
customizable Xbox One Controller
Gears of War 4

The game was already shown at last years E3 and is a cover shooter in the Gears of War universe. This year they showed live gameplay of the campaign and announced that the game will be available for the Xbox One and Windows 10 on October 11 2016. Also they announced a cross-play multiplayer and a Gears of War Elite controller.
Killer Instinct

After Killer Instinct is out now for already three years, the shortly announced a new character in the game and the support of 'Play Anywhere', the Xbox One and Windows 10 cross-platform feature.
Forza Horizon 3

The game was already accidentally leaked before E3, but now it is official, the new Forza Horizon will take place in Australia and it will also support 'Play Anywhere', so it will come to Windows 10 and it even supports cross-play. In the cinematic trailer and later in the live gameplay they showed the openworld multiplayer, the different terrains and the different vehicle classes. Also the game will ship with a four player coop mode and it will come out December 27 2016.
ReCore

ReCore is a game that was revealed last year at E3 as an Xbox One exclusive title, but now Microsoft announced that the game will also come to Windows 10.
In the trailer they showed the different characters in the game and the release date which will be September 13 2016.
Final Fantasy XV

At the press conference Microsoft showed new gameplay for the game, in which the player has to fight against a Titan. The Game will come out September 30 2016.
The Division: Underground DLC
They showed a trailer for the new Underground DLC and announced that the DLC is first playable only on Xbox One.
Minecraft Mobile: Friendly Update

After Microsoft bought Minecraft and the developer Mojang in early 2015, the showed of the new update for mobile devices at this years E3. This so called 'Friendly Update' will allow the players of all mobile versions (Android, IOS, Windows Phones/Windows 10) to play with each other via cross-play on official servers. The new version will also support Gear VR and other mobile VR systems and it will also bring texture packs to the game.
More informations will be revealed in September at MineCon.
ID@Xbox

Microsoft also showed their smaller 'independent' games in a fast compilation of different small indie games. They especially showed the games Inside and We Happy Few.
Inside

A game made by the Limbo developer, which will be a puzzle and platform game that first comes to Xbox One, June 29 2016 and later also to other platformes.
We Happy Few

It is a survival horror game that was revealed in 2015 and was at least partly financed by an Kickstarter campaign and will be released July 26 2016 on Xbox One, Steam (PC) and PS4.
Gwent

After CD Project Red released 'The Witcher 3' last year with a small ingame minigame called Gwent, which the fans loved. They now will release a standalone version of the card game Gwent which will be playable online and offline. It will be released September 2016 on PC and Xbox one.
Tekken 7

The game was revealed with a cinematic trailer, that transformed into gameplay which showed the fighting in Tekken 7. The game is announced for early 2017.
Dead Rising 4

The game was also revealed with a cinematic trailer which shows the winter setting of the Zombie slasher. Microsoft announced that the game will come as well to Windows 10 and it is announced for Holiday 2016.
Scalebound

The Japanese game, made by Platinum Games was shown this year with live coop gameplay and a cinematic. It will be available on Xbox One and Windows 10 in 2017.
Sea of Thieves

The pirate game by Rare was revealed last year at E3 and now they showed multiplayer gameplay. We see different Crews who fight in sea battles against each other. The game comes out for Xbox one and Windows 10, but the release date is unknown.
State of Decay 2

Microsoft announced the sequel of their zombie game and showed a cinematic trailer, in which you can see base-building and a multiplayer. The game comes out in 2017 for Xbox One and Windows 10.
Halo Wars 2

The last game that was shown at this years Microsoft E3 press conference came back as a sequel seven years after the first game. They showed a cinematic trailer and announced it for Xbox One and Windows 10 on February 21 2017.
The game can be tested for a week on Xbox One.
Xbox One S

Microsoft began their press conference with a trailer for their new slim version of the Xbox One. The console will be available with up to 2TB of hard drive, an integrated power supply, a new wireless controller and the possibility to watch movies in 4K. The price starts from $299 upwards and the console will be available in August.
Project Scorpio

At the end of the conference, they also showed a trailer for their new console, called Scorpio. The console will come out Holiday 2017 and brings a huge hardware upgrade to the Xbox. So it will be possible to play in 4K and play VR games on Xbox. The price of the console is not yet announced.